Can't believe he's 1 already
I also can't believe he's made it to 1 without having to have surgery to remove some object he's chewed
He's still a bundle of energy and mischief, he makes us laugh multiple times a day either with his clowning around or exasperation that he's out smarted us again

Favorite soft toy is Blue, a blue rabbit with honking squeaker. He knows lots of toys by name
Favorite hard toy, any empty plastic bottles that he can crush and make a noise.
Loves going outside whether it's beach,cliffs, or in the garden.
Always likes something in his mouth to chew on. He goes through loads of pizzles, calf hooves, paddywack,beef scalp, fish skins. He also quite often goes to sleep with a toy in his mouth.
Doesn't like social distancing
He just doesn't understand why he now cant say hello to everybody.
He is very affectionate and loves having cuddles, but only when he's ready for a nap
Jaspers motto for life "Everything is EXITING, live everyday to the max"
Happy Birthday little fella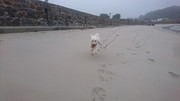 This mornings run on the beach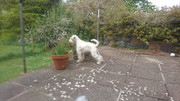 Bird watching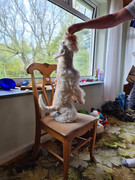 Birthday treats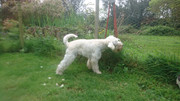 Keeping the grass trimmed