Hello all
I haven't been here for a little while because thing have been a little hectic for a couple of months. However, on 22nd December, Montgomery turned 1! He is such a delightful little boy who has turned into my best bud. I was a little worried that we spent too much time together (I work from home), but when I do need to pop out for an hour or so, he happily hops into his crate for a dried duck fillet snack and when I get home, he gives me lots of cuddles and kisses to say welcome home.
You might remember Monty having a bit of a sensitive tum and having a nasty week or so when 6 months. While still limited, we have found a good diet of lamb grain free wet trays by Wainwrights are excellent for him. He also has a
Lily's Kitchen
bedtime biscuit before bed and a dried duck fillet snack at around lunchtime. Occasionally he gets the
Lily's Kitchen
cheese and apple snacks too as a treat. And we've stuck to a daily Yudigest with brekkie.
We really adore our little man. And so do our extended family. And our next door neighbours love him. While we were gifted some shortbread for Christmas (which was lovely), they give Monty two toys, some treats, and a cushion for Christmas all wrapped up in bone printed wrapping paper!
I have attached some photos of Monty. We still persevere with home grooming, and while a little scruffy around the edges, this is definitely part of Monty's character now! He is a steady 7.8kg and has been since 8 months old, no matter how much he eats or how much exercise he gets! He's very chilled out and as cute as a button! Welcoming him into our family was and is the best thing we have ever done!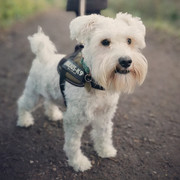 In his favorite park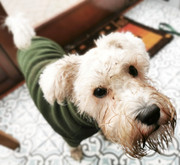 Forever getting mucky (and loving it!)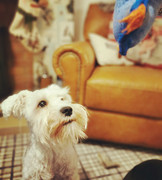 Focusing on his duck toy