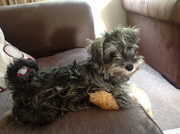 Just thought I'd update you and share a new pic - she's getting big now. She's still amazing at night and doing her "business" outside and is a pleasure to have....most of the time. Also need advice on a few things:-
1. Has anyone ever used the no bite spray? I was thinking of putting this on the regular everyday items she keeps biting when in a naughty mood such as my kitchen blinds, curtains, back door mat etc! She also keeps trying to bite the marble hearth which I obviously don't want her doing
I find its when she's being told off for these things and moved away from them that she turns on me.
2. The cup was a brilliant idea when she's launching herself at us, mainly me
.... but how often should we give her this? I don't want her to associate the "fun" cup with bad behaviour.
3. Is it ok to give her an ice cube during this hot weather? If so, how many per day?
4. Any advice on leaving her alone while we're out? We have an indoor pen that we attach to her crate so leave her in this for her own safety and so that we come back to an untouched house. Should we make a fuss of her when we return or just ignore her for a few minutes until she's calmed down so that it's not a big thing about her being left?
5. We've kept her on the food the breeder suggested (Csj Little champ puppy food) and she's quite happy with this. We do soak it in water though to soften it up a bit for her. Is there any little titbits we could to add to this occasionally to give her a bit of variety? I put a couple of tuna flakes at the bottom of it the other day and she loved it.
6. Regarding healthy snacks, I give her a small carrot stick now and then but think she's getting a bit bored with it. Any other suggestions? Can she have one of our finished yoghurt pots to lick out as a treat?
7. How often should she be bathed? And what is a good dog shampoo? And does anyone use the grooming spray (baby powder) scent?
8. A friend has suggested soaking a tug toy in chicken stock and freezing for her to bite on. Is this recommended?
I think that's it for now but we really would welcome any advice, ideas during this very challenging puppy stage...I know exactly what I'm doing with babies/toddlers but feel totally clueless with this little fur baby ... Help!