It's always good to look back on how much they change over the months and bring back happy memories at a later date.
We went to register at the vets today, Jasper got weighed and he's 2.86 kg and somewhere between 9 and 9.5 inches at the shoulder. We're sure he's got bigger in the 5 days we've had him.
He's now met Barneys best friend Teddy (a neighbours dog who thinks our house is a second home).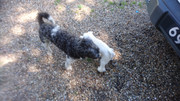 This was Barney and Teddy when Barney was 11weeks old, don't think Jasper is going to be that big at 11 weeks