His name is Ozzy, he is a black and silver mini schnauzer born July 30, 2020. So I don't have him yet, I don't even get to visit him due to covid, but I do have 2 really bad pics lol (the breeder is not very good with photography
)
Here he is! Meet Ozzy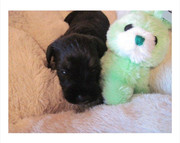 Here he is about 2.5 weeks old. We weren't sure at this point if he was black/silver or black based just on the pic. He is a dark B/S if so no doubt. Both his parents are black so we weren't sure.
So a few days ago, the breeder sent me this pic to show his legs
Image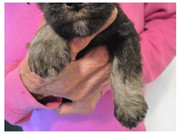 He is almost 4 weeks now and now it is clearly apparent he is Black and Silver. I love his little goatee!!!
I don't think it will stay like a white strip, but it's super cute right now haha!
So I still don't have a pic of the whole face lol!
But in her defense, she is 80YO and keeps super busy with puppies, so i'll give her a break haha