Where has the time gone, can't believe he's 2 already.
He still not turned into a calmer "adult" dog

He just loves life and lives it at 110%. It can be doing zoomies hurdling over the settee at top speed
or it can be giving cuddles where he snuggles up to you and just loves ear rubs and tummy rubs
Where as my teeny tiny puppy gone? He's ended up at around 16.5 ins at the shoulder and weighs in around 9.8 kg He's still the skinniest mini I've come across.
Butter wouldn't melt in his mouth
gotcha day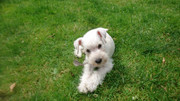 Jasper at 10 weeks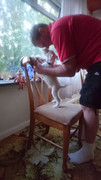 And today at 2. He looks quite stocky but it's all hair, he's due a clip and strip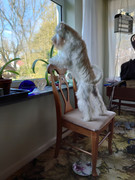 The chair stays by the window permanently. Sometimes he's quiet so I go to see what he's up to and he'll be on the chair watching the world go by. We have starlings nesting in the fascia at the minute he sits and watches mum and dad going in and out. Doesn't bark or anything, I think he likes the anticipation of when one is going to pop back out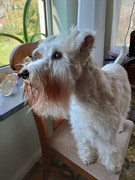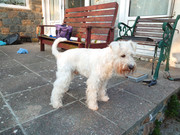 Happy Birthday little fella
long may you continue to make us laugh everyday