My poor boy was attacked by a Rottweiler today. My wife was walking both our Schnauzers, on the lead, when a lady with a Rottweiler (who my wife has seen previously on other walks, struggling a little to control it), walked by, the Rottweiler slipped her control and went for Oscar (Sasha, who is much smaller, was left alone).
My wife took Oscar to the vet, they cleaned the bite and gave us some antibiotics, pain relief and a solution to dilute and wipe over the wound (they kept it open and have not covered it in any way). My wife said she was in a right state when it happened but calmed down by the time she got home from the vets.
These things happen right. I mean I have heard loads of stories about dogs being attacked and I always felt blessed that our two had travelled their dog path without incident - until now.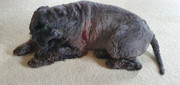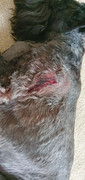 We have been in contact with the owner of the Rottweiler (she gave us her number straight after), who was mortified and offered to pay for any vet bills, which we declined. We just asked her to keep her dog muzzled if walking it in a public space as she knows it's "temperamental".
Anyway I just wanted to ask, do I need to do anything different with Oscar from now on? Or do we carry on our walks as before and just keep an eye on him in case it's affected his confidence or God forbid, his temperament. Of course, until his wound has healed I will be careful where we go and the next couple of days I may keep them both in, just letting them use the garden etc.
I was just after some advice please on how best to handle this. Oscar 'seems' okay, a little sorry for himself but relatively normal - if that is such a word you can use when describing a Miniature Schnauzer
Thank you.