Hi,
My sister's family have decided the time is right to get their first schnauzer - they are looking for a female mini aged 1.5-4.5 And they thought they had found one, only the seller pulled out (it is so very hard to let them go) and now they are disappointed especially the 15 y,o. who has health problems and a passion for dogs.
So I thought I would put a shout out in case anyone knew of any suitable girls looking for a rehome. I don't think a dog with serious problems would be suitable as a first dog but they were prepared to put the work in, helping the first dog adjust from life with a breeder to life as a pet.
This is the background info: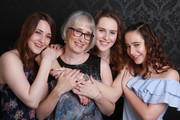 Family, living in Surrey with 3 girls, 2 at university and the youngest, 15, is ill so has to spend a lot of time in bed, so cuddles and rests would abound my sister walks most days anyway so the dog will be well exercised. She has also seen my schnauzer eat the barf diet and hopes to introduce the dog to that too. They are prepared to drive quite a distance for the right dog. I should mention that my sister does not view this as a way to get a cheap dog and is expecting to pay for the new member of the family.
Please get in touch if you know of a lead (ho ho) We expect to continue looking into the summer.
Thanks
Nina and Janet