My beautiful girl Sasha (below) is going in for her spay operation on Thursday (she has had one season already), I'll be taking one or two of her toys with her to keep her company. *She will be a week short of being one years old.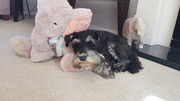 I just wanted to ask about whether a baby grow type thing is better than those horrible neck collars? Also, I'm sure the vet will direct me but any things to look out for post-op?
I'll need to fit a child gate on the bottom of the stairs so she doesn't run up/down stairs and I plan to sleep downstairs with her (she has always, from her 2nd night, slept upstairs in our bedroom along with Oscar) for a few nights, to keep her company (I cannot bear to leave her on her own).
I know many of you will be raising eyebrows, I don't mind

but we don't have children and Oscar and Sasha are our world.
Thanks in advance.
Mike