Moderators: Dawnspell, GaryThomlinson, zeta1454
Forum rules
Please do not post questions regarding your dog here. This area allows people to introduce themselves and get to know other members of the forum. Any specific issues can be raised in the appropriate section.
Posts: 4
Joined: 28 Mar 2019, 16:47
First Name: Julie
Meet Ringo, my mischievous miniature, nearly 4 and still acts like a Pup.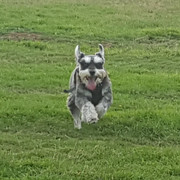 ---
Member
Posts: 1031
Joined: 02 May 2017, 11:28
First Name: Julie
Dog #1: Oscar RIP Sweety
is a: P/S Mini Dog
Born: 21 Dec 2002
Dog #2: Otto
is a: B/S Mini Dog
Born: 04 Jul 2017
Hi Julie, welcome to the forum and I love Ringo, he has a great schnauzer gallop.
Every snack you make
Every meal you bake
Every bite you take
He'll be watching you......
---
Member
Posts: 535
Joined: 31 Mar 2016, 11:52
First Name: Mike
Dog #1: Oscar
is a: Black Mini Dog
Born: 17 Oct 2015
Dog #2: Sasha
is a: B/S Mini Bitch
Born: 23 Sep 2017
Welcome Julie and Ringo - good work on getting an action shot.
I can never get far enough away from mine to get this sort of photo
---
Moderator
Posts: 3920
Joined: 19 May 2011, 16:58
First Name: Leigh
Dog #1: Magic
is a: P/S Mini Bitch
Born: 20 Apr 2010
Dog #2: Trilby
is a: P/S Mini Bitch
Born: 15 Mar 2012
Dog #3: Pip
Born: 21 Feb 2014
is a: P/S Mini Bitch
Location: North Yorkshire
Contact:
Welcome to the Forum
Great photo!
---
Member
Posts: 1174
Joined: 28 Sep 2008, 20:28
First Name: Christine
Dog #1: Suzi (RIP) 13/4/17
is a: P/S Mini Bitch
Born: 15 May 2004
Dog #2: Gino/Siglette Shadow
is a: P/S Mini Dog
Born: 09 May 2017
Location: East Kilbride, Scotland
Contact:
Welcome to the forum Julie & Ringo from me & my boy Gino
Christine & Gino (Siglette Shadow (born 9/5/17


Suzi (15/5/04---13/4/17) (Sugarbabe) RIP loved you to the moon & back, miss you so so much precious girl
https://www.dogfriendlybritain.co.uk/wetnosesociety
https://www.dogfriendlybritain.co.uk/wetnosesociety/081008WLfVMa/
---